Happy Valentine's Day! Are you celebrating today? I spent last night making Valentine's treat bags, and choosing bathroom tiles with my best gal (who's seven and looks a lot like me), so I guess I could argue that I celebrated Galentine's Day. Today, however, feels like an ordinary day, except that I have desperate urge to wear red!
Emotions Inspired By The Color Red
Some color psychologists would tell you that the color red evokes emotions of passion, power, love, and energy in everyone. Others argue that our reaction to any color is based on our culture and experience. In South Asia, red is the color of marriage. In South Africa, it is the color of mourning. In the Middle East, it is often associated with evil. Here in the U.S., it is the color of love, caution, and patriotism. Having lived in a few different countries and states, I agree with the latter group of psychologists, that colors can stir up different emotions at different times. Growing up in Aisa, red was my special occasion, good luck color. (I returned to those roots for my wedding and wore garnet at our reception). During college at U.C. Berkley, I couldn't wear it without feeling guilty. It was our rival school's color, so it was completely acceptable for crowds to chant "take off that red shirt, to any student wearing the offending color. Here on the farm, we are surrounded by century-old big red barns, so it is now the color I associate with tradition and home.
Colors to Wear with Red
After taking stock of my closet a few months ago, one of my goals was to incorporate color back into my everyday outfits, one of those colors being red. I've already started wearing it in classic combinations, such as black + crimson + gold, or tomato + denim + black. This month, I'm challenging myself to wear shades of red with other colors. I created this chart for inspiration, using some of the colors from the fall/winter collections, as well as what's in store for us this spring.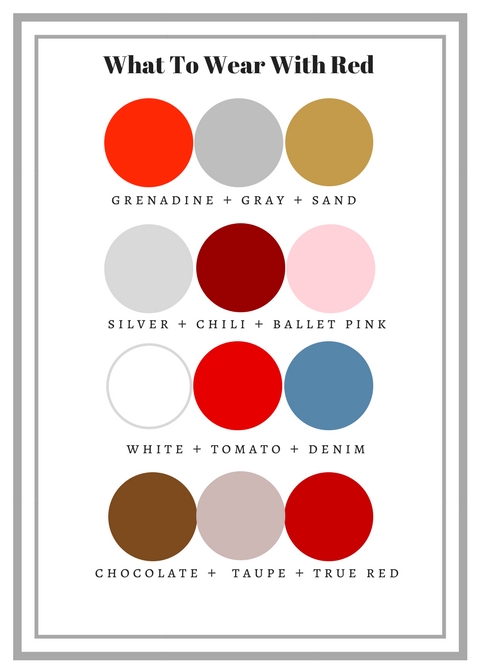 Do you have a favorite combination including red? What does red mean to you? Feel free to comment below!